Laparoscopic Surgery
Benefits of Minimally Invasive (Laparoscopic) Surgery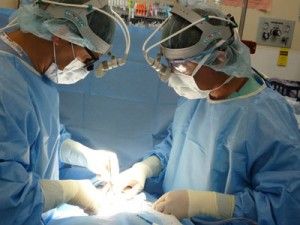 Laparoscopic surgery, also known as "Minimally Invasive Surgery" (MIS) or "keyhole surgery", is performed by using small or micro-incisions to accomplish a surgical procedure that traditionally would be performed through an open or large incision. To begin the surgery, the patient's abdomen is inflated with Carbon Dioxide (CO2) to provide a working cavity for the surgeon. A laparoscope (small telescoping camera) is inserted through a working port (hollow plastic tube that introduces the camera and dissecting instruments). The image is magnified and transmitted onto a high-resolution monitor in the operating room. The surgeon then uses specialized instruments through the other incision points (ports) to carry out the procedure.
We routinely utilize a minimally invasive approach for the majority of our surgeries. These include appendectomies, hernia repairs, adrenal gland removal, spleen removal, intestine removal, reflux surgery, lung surgery and gallbladder surgery to name but a few.
Single Incision Laparoscopic Surgery
As a part of our mission to remain on the forefront of cutting edge surgical care, Alpine Surgical is excited to be the first practice in Northern Colorado to offer Single Incision Laparoscopic Surgery (SILS), as a complement to our traditional multiple incision laparoscopy. SILS represents the latest advance in minimal access surgery, since the first laparoscopic cholecystectomy was performed in 1985. Utilizing a single 2 cm incision within the navel, SILS has elevated the gold standard for appendectomies and cholecystectomies. This technique will greatly reduce visible scarring and the potential for wound pain that can accompany additional entry sites. SILS can result in quicker recovery, better cosmesis and overall improved patient satisfaction. Ask us if SILS is right for you.
Why Patients Choose Alpine Surgical for Laparoscopic Surgical Care
Today's patients often have busy, active lifestyles. Through our patient-centered approach to surgery, our surgeons provide patients with smaller incisions, shorter hospital stays and quicker return to life's activities. Whether you need to be at your son's graduation or back on the trail, our team strives to offer state of the art options to get you back on your feet quickly. Ask us if you are a candidate for laparoscopic surgery today.