Vascular Surgery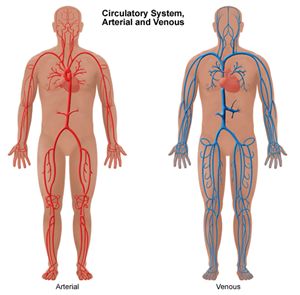 Vascular surgery is the treatment of surgery on patients with diseases of the arterial, venous, and lymphatic systems (excluding the intracranial and coronary arteries). Vascular surgery is indicated when a patient has vascular disease that cannot be treated by less invasive, nonsurgical treatments. Arterial disease is a condition in which blood clots, arteriosclerosis, and other vascular conditions occur in the arteries. Venous disease involves problems that occur in the veins. Some vascular conditions occur only in arteries, others occur only in the veins, and some affect both veins and arteries.
Vascular Conditions Treated
Abdominal Aortic Aneurysms
Carotid Stenosis
Peripheral Arterial Disease
Port Placement
Varicose Veins
Vascular Access for Hemodialysis or chemotherapy
Vascular Disease Symptoms
As people age, vascular diseases are very common. Since they rarely cause symptoms in the early stages, many people do not realize that they suffer from these diseases. Of the eight million people in the United States who may have peripheral vascular disease (PVD), a large percentage are males. In the majority of cases, the blockage is caused by one or more blood clots that travel to the lungs from another part of the body.
Vascular diseases are usually caused by conditions that clog or weaken blood vessels, or damage valves that control the flow of blood in and out of the veins, thus robbing them of vital blood nutrients and oxygen. A few common diseases affecting the arteries are peripheral vascular disease (PVD), carotid artery disease, and aortic aneurysms (AAA).
Most blood clots originate in the legs, but they can also form in the veins of arms, the right side of the heart, or even at the tip of a catheter placed in a vein.
The symptoms produced by atherosclerosis, thrombosis, embolisms, or aneurysms depend on the particular artery affected. These conditions can sometimes cause pain, but often there are no symptoms at all.
Vascular Surgery
Surgery is used to treat specific diseased arteries, such as atherosclerosis, to help prevent strokes or heart attacks, improve or relieve angina or hypertension, remove aneurysms, improve leg cramping (claudication), and save legs that would otherwise have to be amputated. The choices involve repairing the artery, bypassing it, stenting it, or replacing it.
The following are common vascular surgical techniques:
Bypass surgery is preferred for people who have many areas of blockage or a long, continuous blockage.
Aortobifemoral bypass is used for PVD affecting the major abdominal artery (aorta) and the large arteries that branch off of it.
Thromboendarterectomy, the inner diseased layers of the artery are removed, leaving the relatively normal outer coats of the artery.
Resection involves a technique to remove a diseased artery following an aneurysm; a bypass is created with a synthetic graft.
Bypass graft, a vein graft from another part of the body or a graft made from artificial material is used to create a detour around a blocked artery.
Tibioperoneal bypass is used for PVD affecting the arteries in the lower leg or foot.
Femoropopliteal (fem-pop) bypass surgery is used for PVD affecting the arteries above and below the knee.
Embolectomy is a technique in which an embolic clot on the wall of the artery is removed.
Thrombectomy is a technique in which a balloon catheter is inserted into the affected artery beyond a blood clot.
Acute arterial and graft occlusion
Carotid endarterectomy
Endovascular grafting
Renal artery aneurysm
Surgery on varicose veins
Lower extremity amputation
Getting Back to Normal
The length of time in intensive care and hospitalization will vary with each surgery, as will the recovery time, depending on numerous factors. Because surgery for an AAA is more serious, the patient can expect to be in intensive care for 24 hours, and in the hospital for five to 10 days, providing the patient was healthy and had a smooth operative and postoperative course.
Living a "heart-healthy lifestyle" is the best way of preventing and controlling vascular disease: do not smoke; eat nutritious foods low in fat; exercise; maintain a healthy weight; and control risk factors such as high cholesterol, diabetes, hypertension, and other factors that contribute to vascular disease.
Medications that may be used to treat PVD include:
aspirin and other antiplatelet medications to treat leg pain
statins to lower cholesterol levels
medications to control high blood pressure
medications to control diabetes
anticoagulants are rarely, but not generally, used to treat PVD unless the person is at an increased risk for forming blood clots